One great way to support our program is to contribute to the Benjamin Bacon Memorial Scholarship.
Ben was an excellent student, and I was proud to be the mentor of his senior design team in Spring 2010.  If you're interested in donating, please contact the office of Philanthropy and Development, at 704-687-7213, or visit http://coe.uncc.edu/giving/why-give.html.   Here is a little bit more about Ben Bacon:
Ben Bacon graduated from UNC Charlotte in Spring 2010 with a degree in Civil Engineering Technology.  He received the Outstanding Senior Academic Achievement Award for Civil Engineering Technology, graduating with a near-perfect grade point average.  He was a Fall 2009 inductee into Tau Alpha Pi Engineering Technology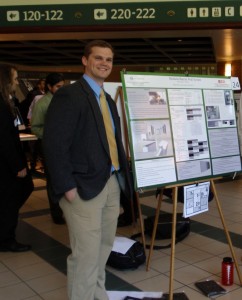 Honor Society.   In addition to being a top Civil Engineering Technology student, Ben also worked many hours each week as an intern for R.T. Dooley Construction Company.  With his drive, determination, and commitment to excellence, Ben was much admired by his fellow students.  While continuing to work full-time at Balfour Beatty Construction, Ben had planned to enroll in UNC Charlotte's Master of Science in Construction and Facility Management (MSCFM) program.
After a courageous bout with cancer, Ben passed away on November 7, 2011.  His family has established a scholarship in his memory, which will be given to a Civil Engineering Technology student whose life has been affected by cancer.