Why should we design electrolytes?
Electrolyte is the media providing the route for working ion transport between positive and negative electrodes. Tuning electrolyte composition could change working ion solvation structure (as shown in a and b), thus modifying electric double layer structures (as shown in c)1,2. As a result, the electrode interphasial chemistries and structures could be changed, which will dramatically affect battery performance.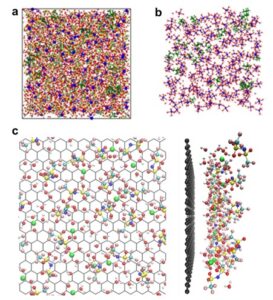 1. "Functionalized Phosphonium Cations Enable Zn Metal Reversibility in Aqueous Electrolytes" Lin Ma, Travis P. Pollard, Yong Zhang, Marshall A. Schroeder, Michael S. Ding, Paul D. Butler, Arthur V. Cresce, Ruimin Sun, David R. Baker, Brett A. Helms, Edward J. Maginn, Chunsheng Wang, Oleg Borodin, Kang Xu. Angew. Chem. Int. Ed. 2021, 60, 12438-12445.
2. "Fluorinated Interphase Enables Reversible Aqueous Zinc Battery Chemistries" Longsheng Cao, Dan Li, Travis Pollard, Tao Deng, Chongyin Yang, Long Chen, Jenel Vatamanu, Matt Hourwitz, Lin Ma, Michael Ding, Qin Li, Singyuk Hou, Karen Gaskell, John Fourkas, Kang Xu, Oleg Borodin, and Chunsheng Wang. Nat. Nanotechnol. 2021, 16, 902-910.