Demyelination is a disease status of the nervous system in which the myelin sheath of neurons is damaged. Stimulation has been proven to result in "Activity-Based Recovery"; a method of myelin regeneration by electrical, magnetic, and optogenetic means. Using an in-vitro model paired with a microfluidic device, different methods of stimulation were tested to show neural regeneration.
In Vitro Model of Electrical Stimulation for Myelination:

Electrical stimulation at the stoma, axons, or both will all result in myelin regeneration. However, axon stimulation seems to be the most effective.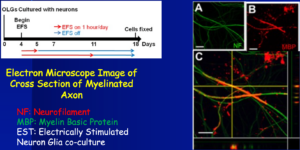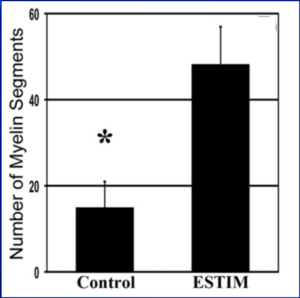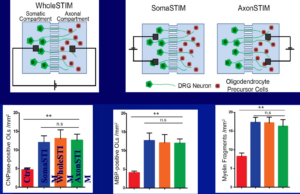 Optogenetic Stimulation:
Optogenetic stimulation uses light to stimulate neurons. Similar to electrical stimulation, this method is used to stimulate oligodendrocytes, thus regenerating the myelin sheath. This method is used as a less invasive technique for neural regeneration.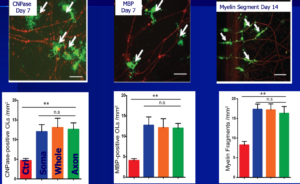 Magnetic Stimulation:
Magnetic stimulation is a non-invasive stimulation method for myelin regeneration. Also known as TMS, magnetic stimulation has been shown to stimulate neurons, and is currently being used as a therapy method for mental health disorders.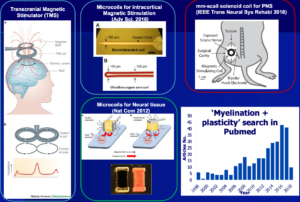 Most TMS devices are very large and require incredible power in order to function, the purpose of this research is to create a handheld device that can be used as a magnetic stimulator, using a biometric low-intensity magnetic field for tissue activation.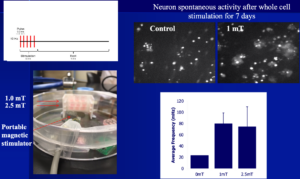 The next phase of this project is to create a flexible device that could be directly implanted (in vivo) onto a nerve to have more accuracy and better results for neural stimulation.